On May 12th, Project Healing Waters Fly Fishing Anchorage presented the Distinguished Service Award to David Rooker during a special volunteer recognition ceremony. Todd Desgrosseilliers, President and CEO of Project Healing Waters Fly Fishing, presented the award to David.  Several other dedicated volunteers who have been associated with the program since it's inception in 2010 also received awards.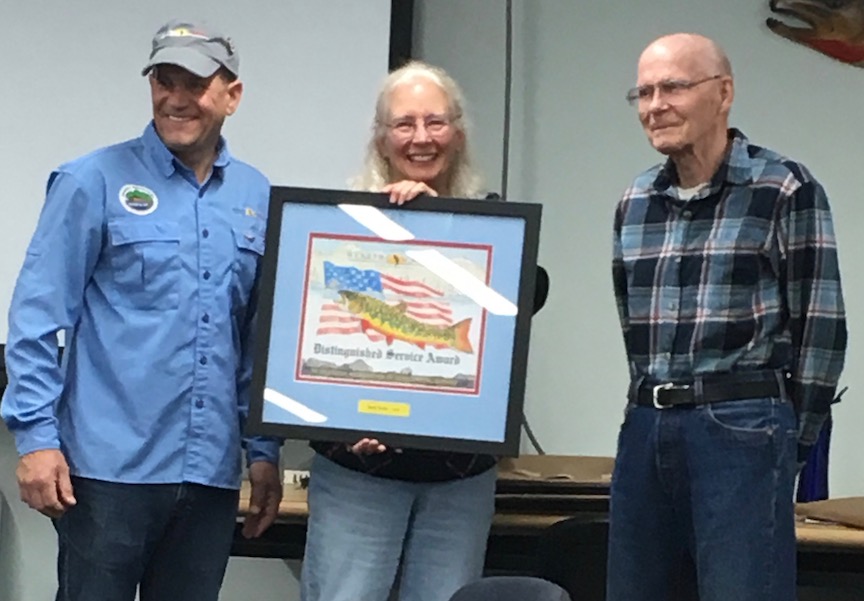 Todd Desgrosseilliers, Jan Schnorr and David Rooker
David Rooker was born in Germania Township, Minnesota and as a young child moved to Glendale, CA living in various locations in California during the Second World War.
In 1950, Dave's family moved to Tucson, AZ, where graduated from Tucson High School and then joined the USAF. Following basic training he was sent to supply school at Warren AFB. Some of Dave's air force assignments included Arizona, Korea, Thailand, Alaska, Colorado and finally Elmendorf where he retired as a Technical Sergeant in 1975.
Dave and his family stayed in Anchorage where he worked for the Indian Health Service, retiring again in 1996. He enjoys fishing and flying his Cessna 140.   He is a member of the Alaska Fly Fishers (AFF) and has helped coordinate the clubs monthly fly tying clinics for some time where he can be found leading the beginners' table with patience and humor.
When AFF asked for volunteers to start the Project Healing Waters Fly Fishing (PHWFF) program in 2010, Dave immediately stepped forward. Dave brings this love of fly fishing to veterans, active military and their families every week.   Dave staffs weekly tying sessions on Wednesdays at Joint Base Elmendorf Richardson's Fisher House, a facility where military & veterans' families can stay free of charge, while a loved one is in the hospital. His sessions have offered a brief distraction and respite from many over the years. On Thursdays, Dave is at the regular PHWFF Anchorage Program meetings. He really loves working with beginning tiers and helps them learn the basics with a no stress no fuss approach to tying. Dave has a calm and seemingly effortless casting style he shares during annual casting training and practice for PHWFF participants. During the fishing season, he frequently takes folks fishing on local lakes to learn and enjoy the independence of float tube fishing and hone skills and build confidence in fly selection and presentation.