Our great friend and supporter Joel Stewart, author of A Fly Rod in my Sea Bag: Fishing Adventures in Baghdad During Operation Iraqi Freedom, profiles 1st Sergeant Son Tao, U.S. Army, a PHWFF veteran participant, volunteer, and world-class fly tier.  You can learn more about the author by visiting his blog at https://krazygoof.wordpress.com/  
---
A Soldier's Way
By Joel Stewart | Photographs courtesy of Son Tao
Perfectly aligned fibers flowing out of exactingly placed coils of wire that ended in a blending of fur, feathers, and resin; the trout fly was a work of art.  Flawlessly tied, it was a beautiful blend of material perfectly proportioned on the hook with nary a single stray fiber.  The master who created it must have spent years perfecting the craft in order to achieve such work.  However, this artist has less than two years in front of a vise.  The artist is Son Tao and I am going to share some of his story with you.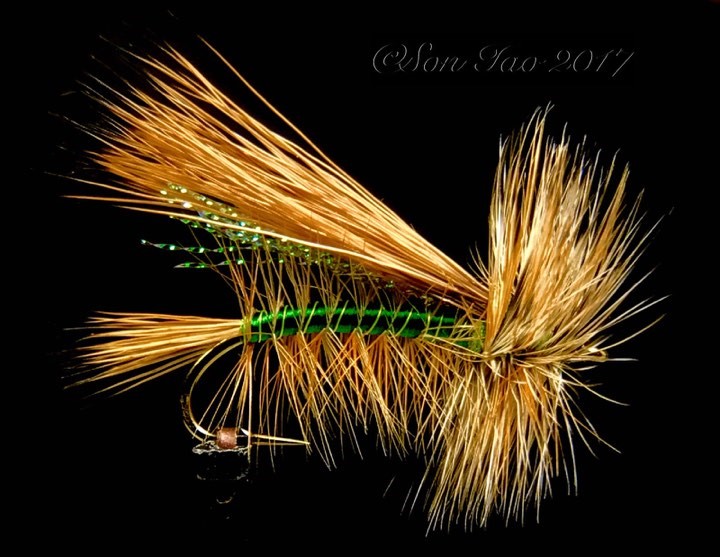 Son was born in the war-torn Republic of Vietnam.  After the war, he and his family fled by boat to Malaysia.  Surviving the harrowing trip across the South China Sea, they applied for political asylum in the United States.   Eventually they were sponsored by a Mennonite family in Pennsylvania.  Son grew up in the ruggedly beautiful country of Lancaster County.  After graduation, he enlisted in the US Army Reserves.  While serving in the reserves, he attended Lehigh University in Bethlehem, PA and graduated with a degree in electrical engineering.  He got a job and after six years in the Reserves, he transitioned out of the military.
However, following the terror attacks of 9/11 he found himself back in the recruiter's office.  He has remained on active duty in the Army as an infantryman since.  Five combat tours under his belt, he served in Bosnia, Iraq, Afghanistan, and the Philippines.  He's also spent time on the Demilitarized Zone in South Korea.  Several years of his time in the Army were spent being based out of Hawaii, but with so many deployments, he didn't spend much time on the island.  He is currently stationed in Indiana, living with his wife and three children.
Son started fishing when he was in Pennsylvania.  He was given an old Shakespeare rod with what he guessed was 20 pound line and turned loose on the local waters.  No one thought twice about a boy on a bicycle riding all over the country side to catch a fish; something I'm not sure today's youth are able to have the pleasure of doing.  Son never really pursed fishing after the Army Reserves and college as he was busy building a life.  It was not until years later, while having a beer at the VFW in Hawaii, when he was invited to come out with a Veteran he met.  This Vet taught him about fly tying.  On Son's very first attempt to tie a fly, his instructor said "I've been doing this for years and you just tied that pattern better than I can, are you sure you've never done this before?"  The gentleman also took Son out fishing in Hawaii.  They went to a bay on Oahu known for bonefish, where Son caught his very first fish on a fly – an 11 pound bonefish!  He caught a few more before he transferred, some even bigger.  He had the bug.  Aside from that first lesson, he is self-taught.  He likes figuring it out on his own and not picking up bad habits from others.
After he moved to Indiana, he was at an outdoors show and the Indianapolis Project Healing Waters Program had a booth set up. They saw him in uniform and flagged him over.  They got to talking and Son was invited to a meeting.  He went and was immediately drawn to the comrade of the environment that permeated the gathering.  He became a regular at meetings.   He was selected to go on a trip to the famous Smith River in Montana for a week long float and fishing trip.  He was also selected to fish the venerated Au Sable River in Michigan.  He made it down to Arkansas to fish the fabled White River too.  He has also fished some of the fine trout waters of Central Pennsylvania.  He will go on another trip to Montana this fall.  For someone new to the sport, he is making up for lost time at a good clip.
When asked what his favorite fish was to catch, without hesitation, he responded "trout."  He views them as a much more demanding quarry than anything else he has pursued.  "Trout require perfection, and I like that" he says.  His best trout to date is a 30 inch brown that fell to a well presented nymph on a very heavily fished stretch of water in Pennsylvania.  To prove it was not a fluke, he caught a 27 incher a few moments later.  Then all the locals crowded him off the water.  One has to wonder how they would have reacted had they known he was a "beginner."  He described his favorite set up as a size 14 soft hackle with a size 12 wire nymph.  He loves casting dry flies, but knows if you want to catch fish, you have to put the fly where they live.  The fish Son catches are pretty safe as he always practices catch and release.  He doesn't care for fish as a food at all.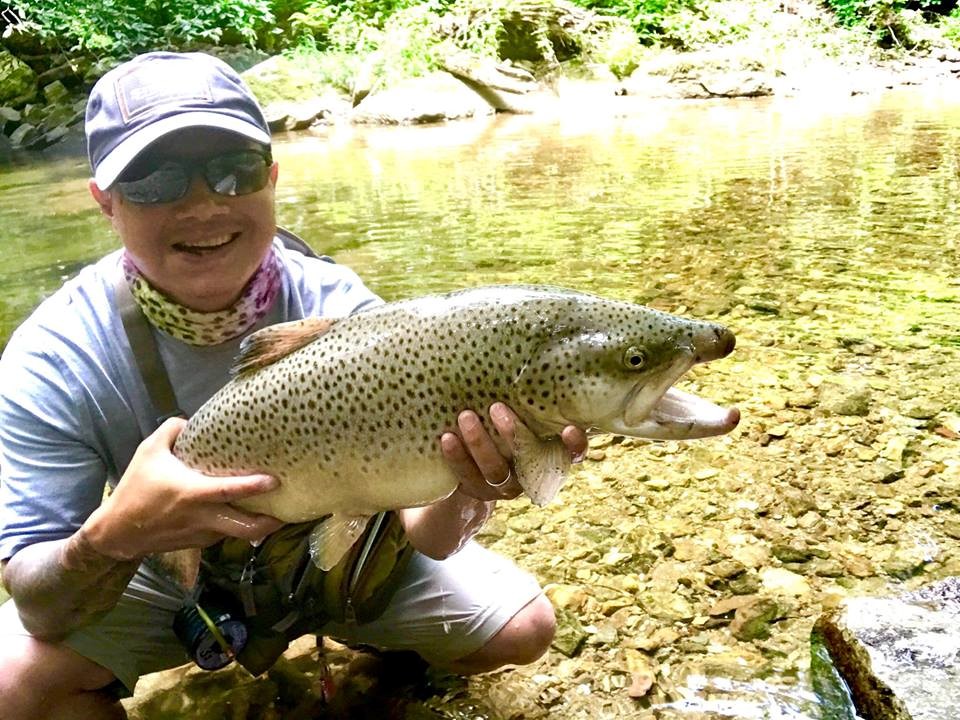 His fly tying is no different from his fishing.   Learning by reverse engineering patterns and aided by his artistic eye for detail, he creates amazing flies.  He has studied old classics and worked to reproduce them with similar materials from patterns listed in old books and magazines.  He ties flies all year long and has a vise at work as well as at home.  Tying gives him an escape that he can spend a moment or two not thinking about the problems his Soldiers have, things at home, or even his own demons.  For those few minutes it is about the hook, thread, and his creativity.  His artistry does not end there.  He photographs his flies and shares them on his own Facebook page, "The Tao of Fishing."  Again his artist's eye helps him get the light and position of the fly just right to make them pop off the screen (editor's note: you can find Son Tao on Instagram at @son_tao).  They have to be seen to fully appreciate his skill.  His name, in Chinese, means "the way."  True to that definition, Son seems to have discovered his path and expresses it through his flies.
He ties dry flies that look too beautiful to fish with, nymphs that are text book perfect, and streamers that look good enough to eat.  He fishes with his flies of course, but he also donates flies to Project Healing Waters Fly Fishing and Casting for Recovery.  He ties flies to fill boxes but also ties flies to be displayed in cases too, all donated.   He not only shares his flies, but his time in making them by producing videos that show his technique for those who follow his page.
Son is the epitome of the American dream.  An immigrant escaping from communism, he came to the Home of the Brave.  He not only served his country, he has bled for this nation, as evidenced by the two Purple Hearts on his chest.   While he has "been there, done that" when it comes to service, he does not talk much about himself.  However, he puffs up with pride when he talks about his Soldiers.  He takes far more pride in their accomplishments than his own.  Over 20 of his troops have gone on from the infantry to serve in the Special Forces.    He agreed to allow this interview not because he wants fame, but maybe his story will inspire another Service member or Veteran to find a Project Healing Waters Fly Fishing program or some other avenue to find help in getting past their wounds, both visible and invisible.   1st Sergeant Son Tao just cannot stop looking out for his comrades in arms.