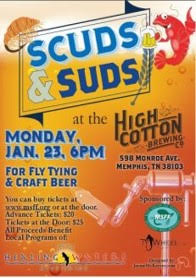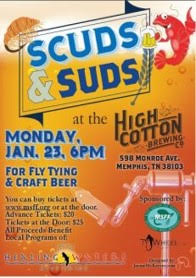 The Patriot Award is Project Healing Waters Fly Fishing's highest and most prestigious award.  It is bestowed upon individuals or organizations that have demonstrated, over time, continuous and extraordinary service to PHWFF as an organization, and to those whom the organization serves.  On Monday January 23, 2017, the award was bestowed upon long-time volunteer leader Ken Swinburne at the annual "Suds and Scuds" fundraiser held at High Cotton Brewery in Memphis, TN by PHWFF Founder and President Ed Nicholson.
Now in it's second year, "Suds and Scuds" was a great success thanks to the generosity of High Cotton Brewery and the volunteer organizers.  This was also evidenced by this years increased attendance.  The event provided fly tying instruction, rod building demonstrations, both a silent and live auction, and fly tying contests for anyone interested in participating.  A special part of the evening was the presentation of the Patriot Award to Ken Swinburne for his his exceptional and continuous contributions to PHWFF.  Ken has unselfishly made an extraordinary commitment to the mission of PHWFF.
His participation has encompassed a personal involvement beyond reproach, material support in the procurement of donations, and most importantly the demonstrated care and concern for our disabled PHWFF participants.  Ken's own military service, leadership, and his love of fly fishing were dominant factors in his exemplary service to PHWFF.
Ken was responsible for founding one of the first ten PHWFF groups in existence.  His constant desire to improve the effectiveness of the program and grow the scope of the program for the last ten years sets him apart. Ken has overseen the development of several satellite PHWFF groups that are run by our Memphis VAMC. One of these programs is the "Continuing Ed" component to our 15-16 week course, offered three times a year at the VA Hospital. This structure allows the participants to continue advancing their interest, skills, knowledge, in addition to continued benefit of confidence, enjoyment, and socialization.   Running these programs smoothly offers challenges that many would not accept, but these responsibilities made Ken a candidate for Regional Coordinator.
Ken has proven that he is a person who "gets things done" and receives a positive response of "yes" when requests are made.  This quality alone has made him an invaluable asset to those who participate.  Corporate entities like Temple Fork and Bass Pro have willingly fulfilled Ken's request.  His ability to cut through red tape and obtain corporate donations within the fly fishing industry  coupled with private donation, monetary funds, material, and equipment reflect the success of his endeavors.
In the classroom, Ken possesses a very mellow, even keeled personality that the participants gravitate toward.  Ken is keenly perceptive of the individuals, their personalities, experiences, and challenges.  He makes a concerted effort to find their talents and address their needs.  This understanding helps to heal and is passed on to the participants and volunteers.
Ken Swinburne epitomizes all that is exceptional and good in PHWFF Volunteerism.  His long-term dedication and support of PHWFF and his total commitment to the disabled men and women he serves goes well beyond that which could reasonably be expected as a volunteer.  Although Ken will be returning to New Zealand we send him off with our sincere thanks for his indelible efforts with PHWFF, and with the hope his days will be filled with the knowledge of our appreciation for the lives he has touched,  and all that he has accomplished with PHWFF.