PHWFF participant Aaron Davis has been participating in our Florida Region with the Pensacola FL JAAC Center Program for the past year.  In his words: "The last couple months have been filled with "firsts" for me. First time meeting the FFNWF group, first time with Project Healing Waters, first time tying a fly, first time casting a fly rod. I'm hooked!"  Thanks to the annual PHWFF Fly Rod Building Program and Competition and the generous support of The Bob Woodruff Foundation, Aaron has been offered another avenue to continue his deep dive into fly fishing.  We're pleased to share a short article from him about another personal first: building a fly rod.
---
It's been a whirlwind of an adventure for me this past summer/fall (although technically its winter, here in the Florida panhandle, it's still holding steady at 70 degrees). I went from an unpaid intern to full time employee, I am able to step behind the curtain of the Federal Judicial System and aid the Department of Homeland Security in removing child predators from some local (and not so local) neighborhoods, I've made new friends and have said goodbye to some. So much can happen in a year. Highlights and low-lights. One of the highlights for me this year was meeting the Project Healing Waters (PHWFF) crew in Pensacola, FL sponsored by the Fly Fishers of Northwest Florida. Sometimes you run into the right person at the right time and it changes you. That's what happened with me.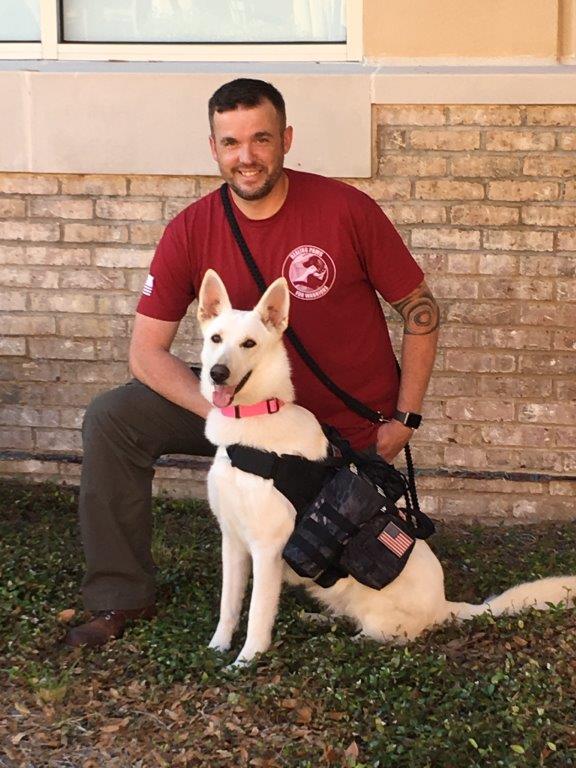 I work in a very mentally challenging field, which coupled with battling PTSD on a daily basis, causes me to need breaks and decompression time. PHW gives me that break. The Pensacola Chapter meets every Monday at 10:00 (except for the third Monday of the month). And that is where I spend my "lunch break" and get my week started off on the right foot. It helps get me focused prior to really diving into my work for the rest of the week. That calm before the storm.
I've tied several flies over the past several months, each one better than the last. Definitely not show quality, but that's not what I'm interested in. I want to catch fish, cook em up, and eat them with my family. In October I was able to attend a fishing trip hosted by PHWFF. It was my first time fly fishing and beginners luck was with me. I caught a pompano and a spanish mackerel. I'll never forget that rush of excitement as the mackerel realized he was hooked and darted away from the boat. The line ripping through the water caused a rooster tail a foot tall… whoo, good fun.
When offered the opportunity to build my own fishing rod I took the bait; hook, line, and sinker. Before the build began, I became a rod building expert (sarcasm intended) by watching youtube videos and reading all the articles I could. I knew I'd be building an 8 weight rod because that's what I'd caught the fish on. I became obsessed with the decorative wraps and weaves and I wanted to make my rod a piece of functional art. When the blank arrived and all the pieces were ready, I had angler dreams of hooking monster fish and grinning with pride with the fish I caught on a rod I built and on a fly I tied. However, reality set in and common sense prevailed.
I didn't want to bite off more than I could chew and after securing a few guides, I knew that I wouldn't be able to get too crazy with the decorative aspect of the rod. While searching for simpler wraps I found inspiration from some flies that I came across. The flies are beautiful and tied to mimic military medals. On my list of things to do now is to tie a fly for every military ribbon I have earned. I thought to do something similar on the rod. Instead of attempting every ribbon on the rod, I settled on the one that meant the most to me, a Bronze Star I that I earned on one of my deployments in Iraq. The method was simple, different colors of thread butted against each other.
While I was working on the rod, I thought back to the fly rod I used to watch my father fish with. It was a mustard yellow rod with brown and yellow diamond wrap close to the grip. Being that I was born and raised in Oregon, cheering on the University of Oregon Ducks, I knew that yellow and green were going to be the colors I'd use to attempt a diamond wrap. In my youtube surfing and reading I'd ready about formulas to calculate where the intersections of thread should be, but I thought I could eyeball it. Math isn't a strong suite of mine, and neither is patience. My first attempt at the diamond wrap failed when I was securing the wrap. One of the threads came loose and I couldn't figure out how to secure it again without covering up more of the wrap, so I pulled everything off.
My second attempt was going better (after all, I'd learned some things from the first failure), until I noticed that the gaps between the threads weren't closing up evenly (so don't look too closely). I was more than happy with the outcome however, and it was taking too much time away from my little girls. I decided it was done. On to the thread color preserver and epoxy. The coatings were applied without a hitch, and now I have a rod to call my own, assembled with my own hands (with expert tutelage from PHWFF chapter leadership).  Now all I have to do is go fishing.
---
The purpose of the Rod Building program and Competition is to expand the therapeutic experience for PHWFF disabled veteran participants by giving them the experience of building their own fly rods to further their physical and mental rehabilitation through the sport of fly fishing.  The rod building program also has a fun competition component which gives participants the chance to win prizes for their rod building abilities.  Thanks to a generous grant from the Bob Woodruff Foundation and additional funding from the Disabled Veterans National Foundation we're bringing this great activity to even more programs and participants in 2018.  The 2018 Rod Building Program and Competition begin on January 8, 2018 and close on April 13, 2018.
(Related:  Announcing the Winners of the 2017 National Fly Rod Building Competition  |  "Best Overall Program Rods" : The 2017 National Fly Rod Building Competition)