Old, familiar slogans such as "Charity begins at home", "The Apple doesn't fall far from the tree", and the like come to mind when we think about the recent celebration of Davis Fall and his efforts in support of Project Healing Waters Fly Fishing. Davis, a seventeen year old from Virginia Beach VA, told his Father John a couple of years ago he wanted to do something to serve military Veterans and those who'd served our Country, to give back. This conversation came after his exposure to Project Healing Waters Participants at the Mossy Creek Invitational Tournament and several other PHWFF events.
Like his parents, Davis was really moved by the people he met in PHWFF. It just seems to be a family affair. Davis set out volunteering for PHWFF events whenever his busy schedule as a student, athlete, and worker on an oyster farm allowed. Generally, this volunteer work centered around supporting his Dad's annual Legends Of the Fly Film Festival and Saltwater Fly Fishing Tournament in Virginia Beach, both of which have supported PHWFF.
Then last year, Davis decided it was time to branch out on his own. As a founding member of the First Colonial High School Fishing Club (FCHS FC), he told his Club Sponsor Andy Miller and parents he wanted to put on a fishing tournament to support PHWFF's local Tidewater Virginia Program. The birth of the First Annual Virginia Beach High School Fishing Tournament started with those conversations.
The tournament was held at the Virginia Beach Fishing Pier and was open to any Virginia Beach VA High School student. Not only was it a great day with first prize going to a student who caught a 11.5-inch flounder but to everyone's surprise, Sponsors jumped onboard this event to provide funds and support for it and our local PHWFF participants.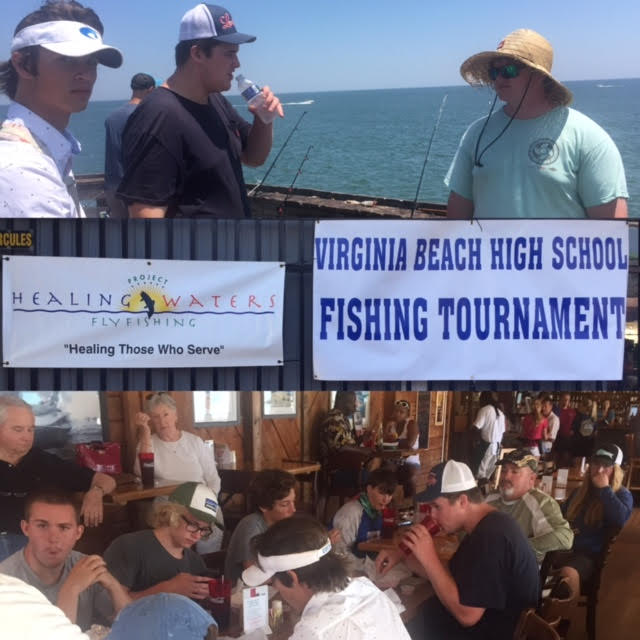 Sunday afternoon, June 25th, members of the Tidewater VA PHWFF Program, the Fall family, Andy Miller, and local supporters attended a presentation of the funds raised by this event to Program Lead Bill Campbell. Davis was very gracious in his presentation and basically said giving back to our Country's Veterans is just something important to him and he was glad for the opportunity to do it.
After Davis's presentation, PHWFF founder and President Emeritus Ed Nicholson took his turn. Ed spoke of his meeting Davis years earlier and his first impressions of what he sees as a fine young man. He spoke of the small beginnings of PHWFF at Walter Reed hospital and seem genuinely amazed at how his simple idea has grown and touched the lives of so many. Then he presented Davis with the Project Healing Waters Fly Fishing Distinguished Service Award for his efforts. Davis is the youngest person ever to receive this award and very deserving.
The evening concluded as it should: Plenty of handshaking, promises to fish together next chance we got, and lots of good fellowship among folks who were together to celebrate our mission and those who make it happen. Thank you, Davis, for all you do and who you are.