Mossy Creek Invitational
Brought to you by Project Healing Waters Fly Fishing, Inc.™
The 13th Annual Mossy Creek Invitational felt like a homecoming. Old friends and new gathered to embrace and celebrate the veterans we serve.
It was a weekend of memories, celebration, and patriotism, and one not soon to be forgotten.
We extend our deepest thanks to all of our friends who so generously supported this annual event and all the sponsors who made it happen. It is their dedication and commitment that has helped ensure the success of the Mossy Creek Invitational for so many years.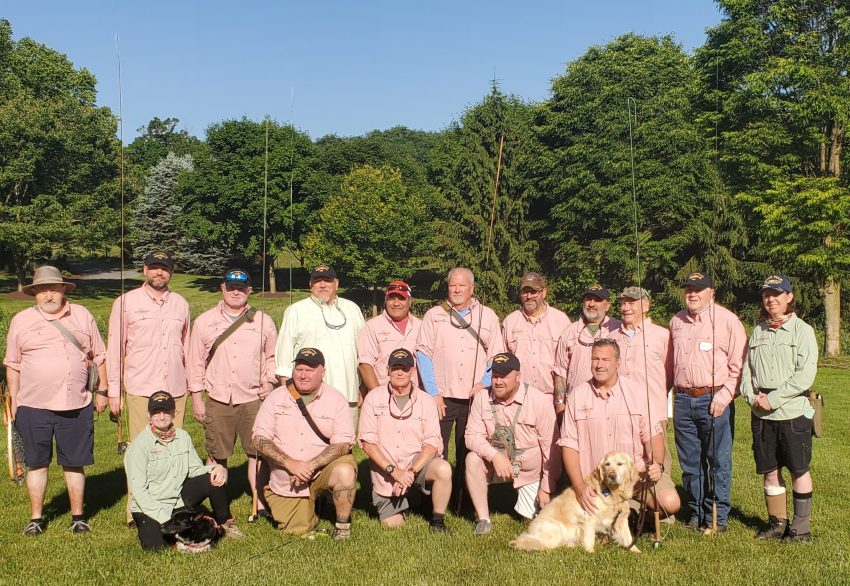 We are pleased to announce that on Saturday June 4, 2022 over $335,000 was raised to support our 228 programs and the injured and disabled veterans they serve in their local communities. We'll be sharing much more in the coming days and weeks.
That success, however, doesn't mean our mission is accomplished. We know that our work continues. We must do more to serve our Nation's injured and disabled military service personnel and disabled veterans. With over 3.8 million disabled veterans nationwide we will continue expanding program services to those veterans who need it. With you by our side, we know we can continue providing a lifeline that connects disabled veterans with our volunteers and programs in a long-term healing relationship.
ABOUT THE MOSSY CREEK INVITATIONAL
The Mossy Creek Invitational (MCI) has been held in Bridgewater, VA since 2008 to raise funds in support of our 200+ Programs nationwide and the injured and disabled veterans they serve in their communities. The MCI is graciously hosted each year by Robin and Bob Fitch and is one of PHWFFs premier fundraising events while also serving as a fun fly fishing competition. PHWFF veteran participants are paired with a sponsor and professional fly fishing guide for a day of memorable angling on Virginia's famed Mossy Creek.

Golden Corral® is committed to making pleasurable dining affordable for each and every guest. Learn more by visiting https://www.goldencorral.com/
The Jeff Kinney Family
Lockheed Martin
MDB Partners
MICA
Microsoft
Smithfield Foods
Walt and Judy Havenstein
Steven Toyota
Dynamic Aviation
Momentum Earthworks
Turtle Pond Foundation
Cox Automotive
Mossy Creek Fly Fishing
John Gottschalk
Sustainable Solutions
First Care Orthopedics
Jacktown Restaurants : Jack Brown's Joint and Billy Jack's Shack
Engineering Solutions
Chesapeake Restaurants
Bob Wade Subaru
Guha Bala
FRIENDS OF THE MOSSY CREEK INVITATIONAL
The Mossy Creek Invitational is a special event, in a special place, brought together by the unconditional commitment and love of the Bridgewater community and all those who travel from a far to its warm embrace.
Over the past seven years, the greater community has made contributions and showed up in force to cheer on teams, support PHWFF, and enjoy the fellowship under the tent for the dinner.  This group is known as The Friends of the Mossy Creek Invitational and is comprised of individuals, families, and small businesses that donate to PHWFF through the Invitational each year.
"The Harrisonburg And Bridgewater community comes together every year to make this event so special," say Board Member and co-organizer Brian Trow, "Individuals and businesses donate food, money, time, and energy to make the experience for the participants and sponsors unforgettable."
Join The Friends of the Mossy Creek Invitational by contacting Brian Trow at brianetrow@gmail.com
Mossy Creek Fly Fishing has generously donated their time and talents for the past 12 years in support of the Mossy Creek Invitational and Project Healing Waters Fly Fishing, Inc.  Mossy Creek Fly Fishing is a Virginia fly shop, guide service, and school located in the heart of the Shenandoah Valley minutes away from spring creek brown trout on the famous Mossy Creek and wild brook trout in the freestone mountain streams of The George Washington National Forest and Shenandoah National Park.  Learn more by visiting mossycreekflyfishing.com
The veteran competitors for the Mossy Creek Invitational are drawn from PHWFF Programs nationwide.  This special tournament enables them to showcase the angling prowess and personal growth they've gained from regular PHWFF program classes and outings.  Each veteran competitor is paired with a sponsor angler and a professional fly fishing guide from Mossy Creek Fly Fishing for a full-day on Virginia's famed Mossy Creek.
Below are the rules for the Mossy Creek Invitational fly fishing tournament being held on Saturday June 1, 2019.  They are designed to promote fun, reward good fishing, good teamwork and hopefully give everyone a chance to be competitive.
Each team will consist of two anglers but only one may fish at a time.
All fish must be properly handled, revived if necessary and released.  Good catch and release techniques are essential to showing our hosts how much we appreciate access to the resource.
Fly fishing only.  Anglers may fish up to two single point barbless flies at a time.  Each angler is expected to bring his own gear but teammates can share any equipment.
Anglers may only fish when they and their fly are on the assigned beat.
Each team may score four trout per session.   Two by the sponsor, two by the PHWFF veteran angler.  Anglers may measure and then choose to score a fish or release it without scoring in the hopes of catching a bigger one but once that decision is made it is irrevocable. When a team has scored four fish in a session, they may fish for fun until the end of the session but please be mindful (in the morning) that others will fish that water in the afternoon.
A trout will be scored by its length, tail folded, rounded up to the next ¼ inch.  Monitors measure. Only trout, fairly hooked, will be scored.
Teammates, monitors or guides may net fish.
Anglers may not enter the stream.  If a fish is hooked in a location where it cannot be netted and released safely from the bank, then it must be walked to place where it can. (anglers must stay on their assigned beat)
The monitor will be the official timekeeper.   If a fish is hooked and being played when time for a session expires it may be landed and scored.
A monitor may waive any rule in the interest of fairness or safety.
MOSSY CREEK INVITATIONAL BLOG