The Legends Of the Fly Tournament celebrates all things fly fishing in the Tidewater Virginia area and the sixth annual occurrence this past October 15th was no exception. They came from as far away as Long Beach California to fish the slam style, saltwater, fly fishing only, catch and release tournament that raises funds for Project Healing Waters Fly Fishing and Seal Kids. PHWFF Participants, their Boat Captains, and other anglers fished from the Outer Banks to Rudee Inlet on the southern end of the Virginia Beach Boardwalk to the islands of the Chesapeake Bay Bridge Tunnel for stripers, redfish, and speckled trout.
This tournament is the brainchild of John Fall, PHWFF Vice President of Donor Relations, and his lovely wife Suzanne. Eight years ago they found themselves volunteering at their first PHWFF event and it's been a love affair for the entire Fall family that includes their three children Davis, Sydney, and Harrison. They created the tournament out of their passion for both fly fishing and giving back to Veterans and their families. It's planned and executed every year on a shoestring budget by the Falls and their small, dedicated, hardworking board of Volunteers.
The Tournament itself is a one day, three species slam style tournament fished by both PHWFF Participants and anglers from all over Tidewater Virginia who sign up early to ensure a chance to compete. This year the public and PHWFF entries filled up two weeks before the day of the tournament. Veterans are partnered with Volunteer Boat Captains from the local saltwater fly fishing club, Virginia Coastal Fly Anglers, private boat owners, and professional guides. Over the years these pairings have created relationships renewed with vigor every year and the hope of finally taking home the grand trophy given to the angler who catches the largest combination of the three species. Strategies abound among the various teams and few details are discussed out loud at the Captain's Meeting on Friday night but there are huddles and whispers among the teams that entire evening. When the sun comes up on Saturday morning teams will be all over the area plying their tricks, trying those strategies, and slipping into their secret honey holes hunting that lunker. It's a catch and release tournament so anglers are required to photograph their catch, release that fish unharmed, and turn those photos in by 4:00 p.m. that afternoon.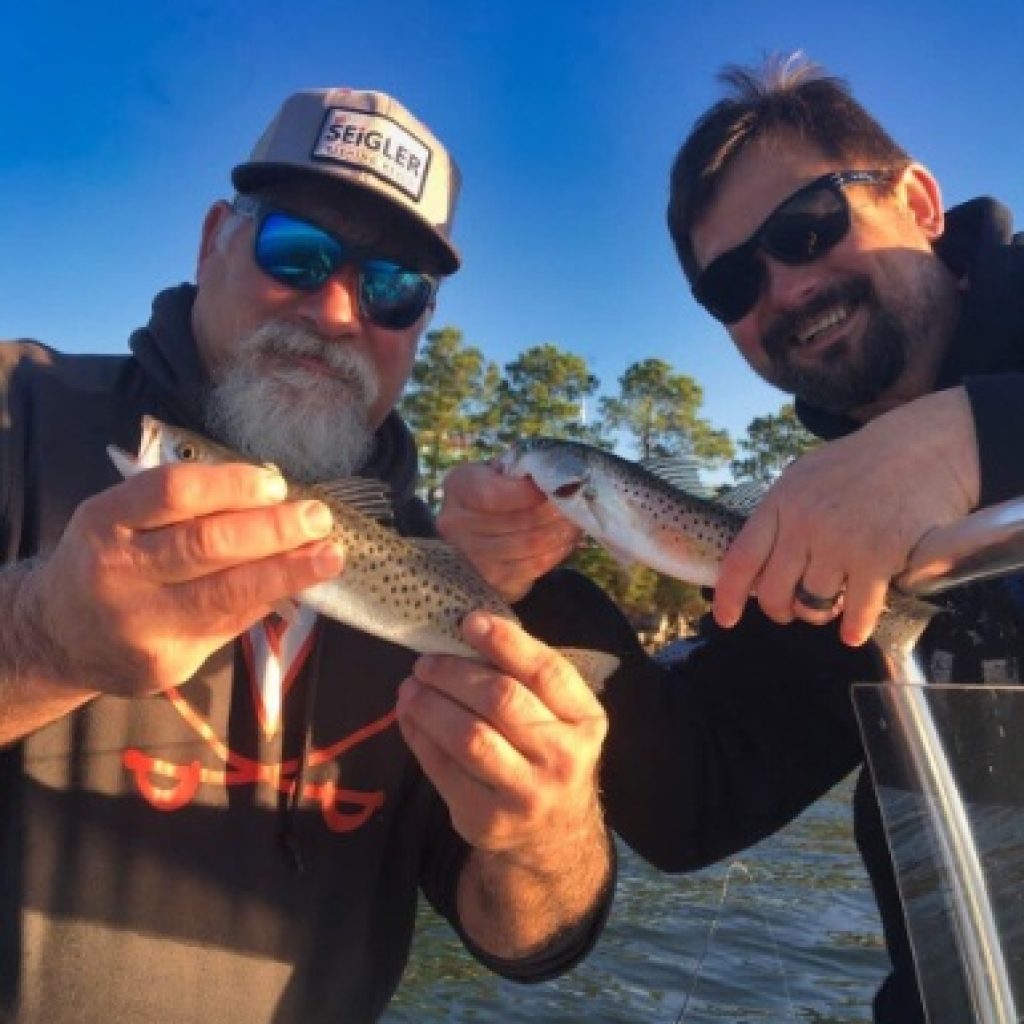 The reception and awards banquet held after the tournament is a wonderful example of great Southern hospitality held at the Fall's home in an older, beautiful section of Virginia Beach. This is where the anglers, donors, supporters, and fans of the causes being supported gather to talk about the fish caught, the fish missed, and just how much fun they had that day. Along with delicious barbecue and fixins, the fare includes freshly shucked Lynnhaven oysters, historically sought by Presidents, royalty, and dignitaries. While you watch Chris Ludford of Pleasure House Oysters easily shuck the briny delicacies, you learn more about the history and life of these creatures than you ever imagined possible. One-of-a-kind trophies created by Justin Williams of Fishburn Art from Staunton Virgina are presented to the winners of the Slam and largest fish of each species.
This year David Hissom, Participant/Volunteer from the Hot Springs Virginia Program won the slam category and Robert Misiaszek from the Tidewater Virginia Program won for the largest redfish caught. The trophy presentations are followed by heartfelt testimonials by both PHWFF Participants and SEALKIDS representatives. SEALKIDS is a national nonprofit organization that supports children and families in the Navy SEAL community, mainly through academic testing and tutoring. You can learn more about this important organization and the wonderful work they're doing at www.sealkids.org.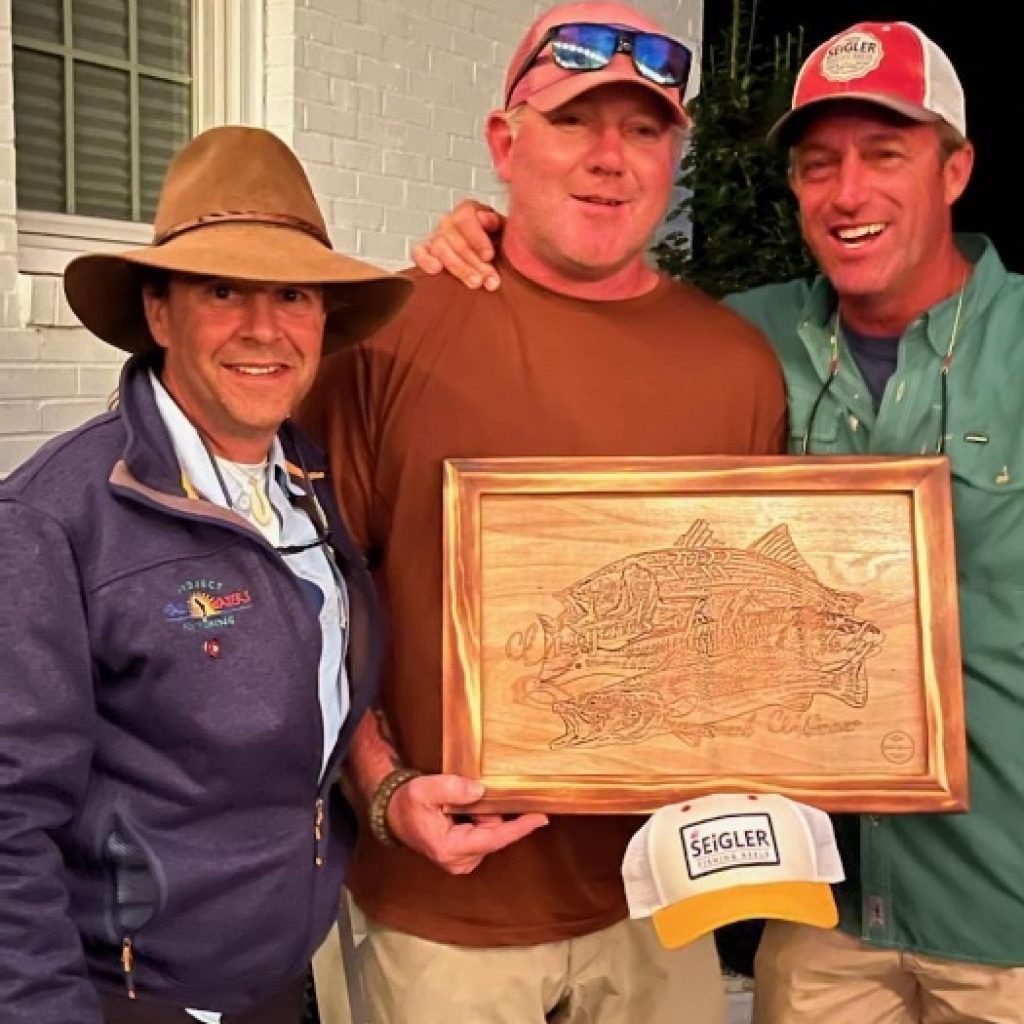 As if a great day of fishing and a wonderful evening of authentic Southern hospitality isn't enough, the fundraising efforts are always a serious part of this event. It has attracted donors and supporters of all shapes, sizes, and backgrounds who've come back year after year to be a part of the cause. Suttle Motors of Suffolk, Virginia, ably represented each year by Larry Preddy, has been a significant supporter since the early days of the Tournament. Wes and Liz Seigler of Seigler Reels have been tremendously generous in guiding our Veterans and providing reels for our auctions. Speaking of the auction and the raffles: Each year, various Vendors such as Mossy Creek Outfitters, Siegler Reels, local fishing guides, and private donors offer equipment, trips, and prizes. Typically, there are boxes of saltwater flies tied by local anglers including one full of flies tied by PHWFF Participants. And each year, Tidewater PHWFF Program Participant and accomplished knife maker Jim Vogel has contributed a knife to the auction. This year, his contribution was special and straight from the heart. We lost one of our crankiest and most beloved Volunteers in the Tidewater Program. Noel Horne, a good friend to all who knew him, passed away this summer so Jim dedicated his knife to the memory of Noel this year. He writes:
This knife was made as a memorial to my Friend, Brother, Mentor and Guide, Noel Horne.
When I first got involved with PHWFF, Noel took me under his wing. He taught me a lot about fly fishing. He was my guide on several fishing trips. I enjoyed and valued the time we spent together and often start many stories with "Noel, Robert and I…"
This knife is my way of saying "Thank you" to Noel and PHWFF.
This knife was made with no glue or pins. The hidden tang of the blade was pressed into the antler. This method was used by indigenous peoples and Mountain men. The antler is boiled to soften it then the tang of the blade is pressed in. This process is repeated until the handle is fully seated. The softened antler will harden as it cools/dries and locks the blade in place.
The blade is 3.25″ long, .85″ wide, .075″ thick, made from recycled power hacksaw blade. Over all knife length is 8.75″. Blade design is a modified Kephart style. The handle is Virginia Whitetail antler.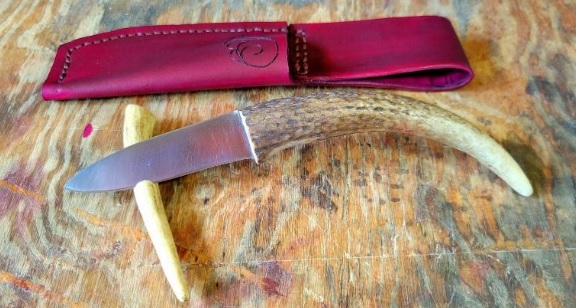 When it came time to take down the tent, fold up the chairs, and pick up all the trash we were sad to see it done. It had been a great day on the water and a pleasant evening with good friends, old and new. Everyone had done their best to raise awareness and funds for the causes and plans for a bigger, better tournament next year are already underway. You can bet your last dollar many of us will be right next to John and Suzanne to, as she said, "Keep doing this as long as we're able".
Latest News