April 28th – 30th, 2023
By: Tim Metzger
Last October, the DC Program booked a weekend trip to the Savage River in Swanton, Maryland, our closest "Top 100" trout stream. This was to be our first overnight trip since before the pandemic, but due to inclement weather, the trip was postponed until April 2023. Of course, early in the week of the event, the forecast looked bleak with a 99% chance of rain on Friday and Sunday, with Saturday being hit or miss. No matter what, we knew the scenery would be beautiful and the time spent away from traffic, work, and the stressors of day-to-day life would be as therapeutic as ever.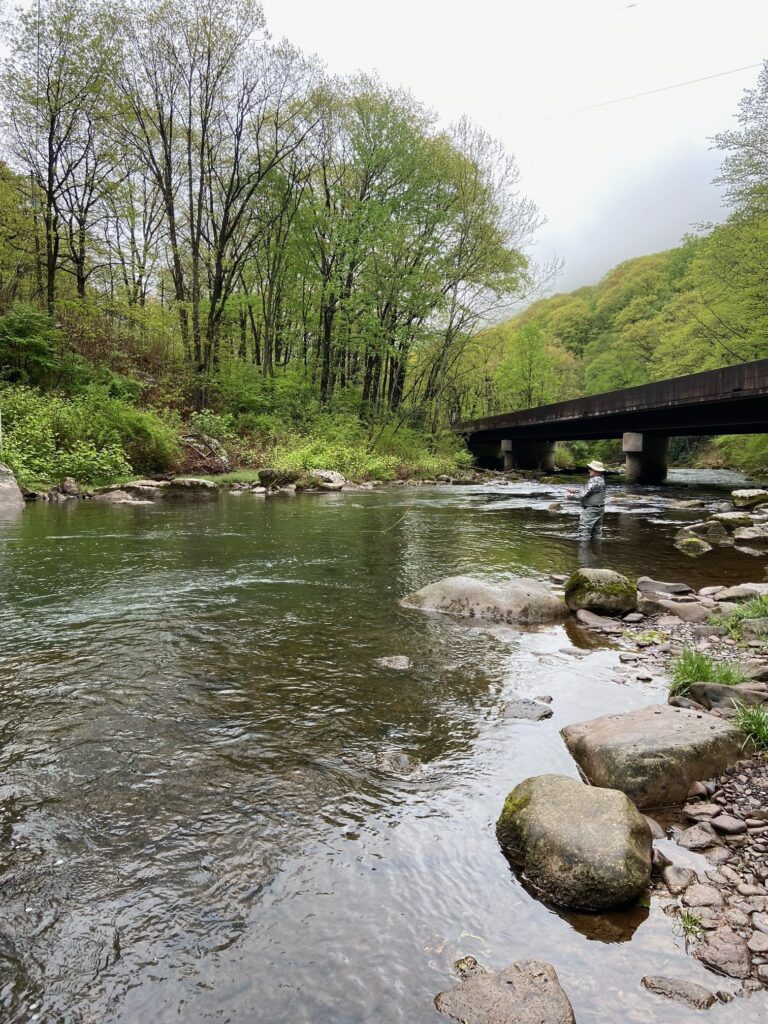 As the week went on the forecast improved slightly, and the owner of Savage River Outfitters assured me we needed to come, and that the Blue Quill hatch was ON! The Blue Quills hatch normally begins in early April in Appalachia, and these small mayflies hatch in significant numbers at a time when hungry spring trout are just beginning to take dry flies again after winter.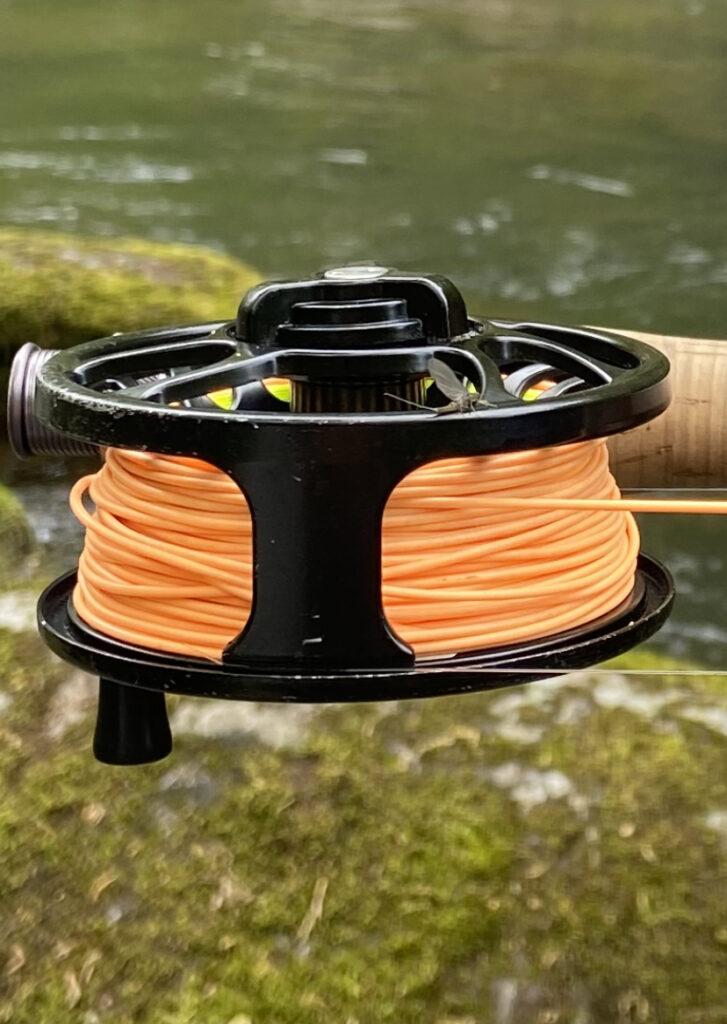 One aspect that made this trip special is that Mike Evans, the owner of Savage River Outfitters, is himself a Navy Veteran! Anyone who has visited Savage River Outfitters has probably seen Mike sporting a Navy hat. This Veteran connection made the trip just a little more impactful. Another special part of this trip is that it demonstrates the continued commitment from the National Capital Region Programs to share events across Programs. DC was honored to share this trip with a participant from Fort Belvoir, and not only was he the life of the party, but he was a ringer with the brown trout too, as you will see below!
The group arrived Friday afternoon to rainy conditions, as the forecast predicted. The water temperature was pretty cold and we were nervous things may not pick up. Nobody caught fish Friday afternoon, but everyone was well-fed and well-rested for the following day. Saturday morning the forecast was spotty, but we finally caught a break. Not too cold, sun poking through the clouds, water temps rising slightly, and some Blue Quills hatching! After getting rods put together, and some quick casting lessons on the lawn, participants were paired up with guides and hit the water.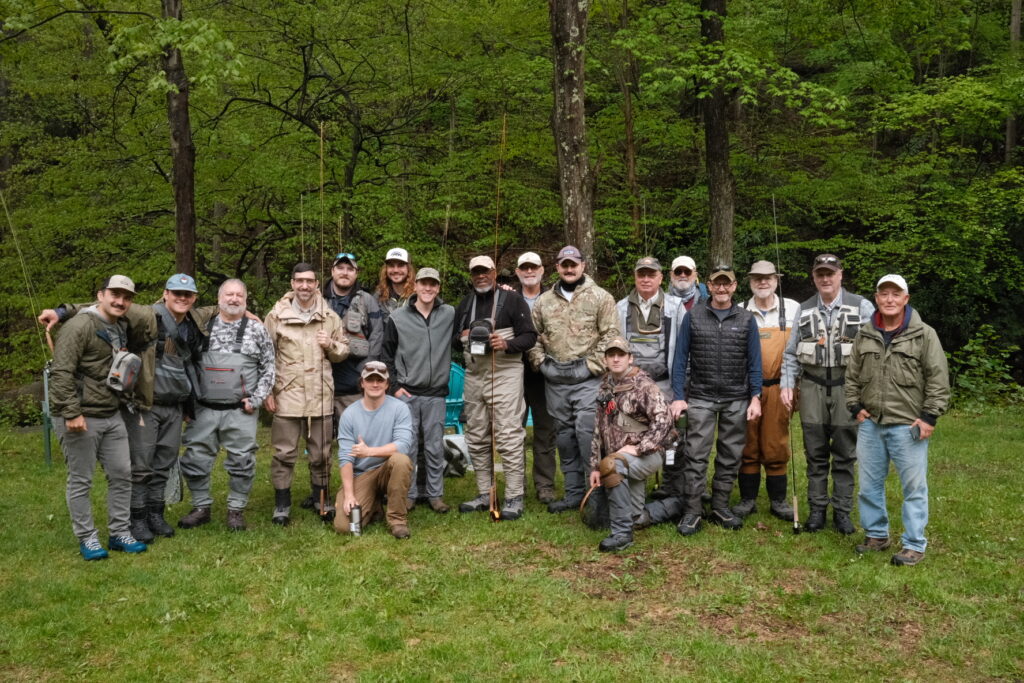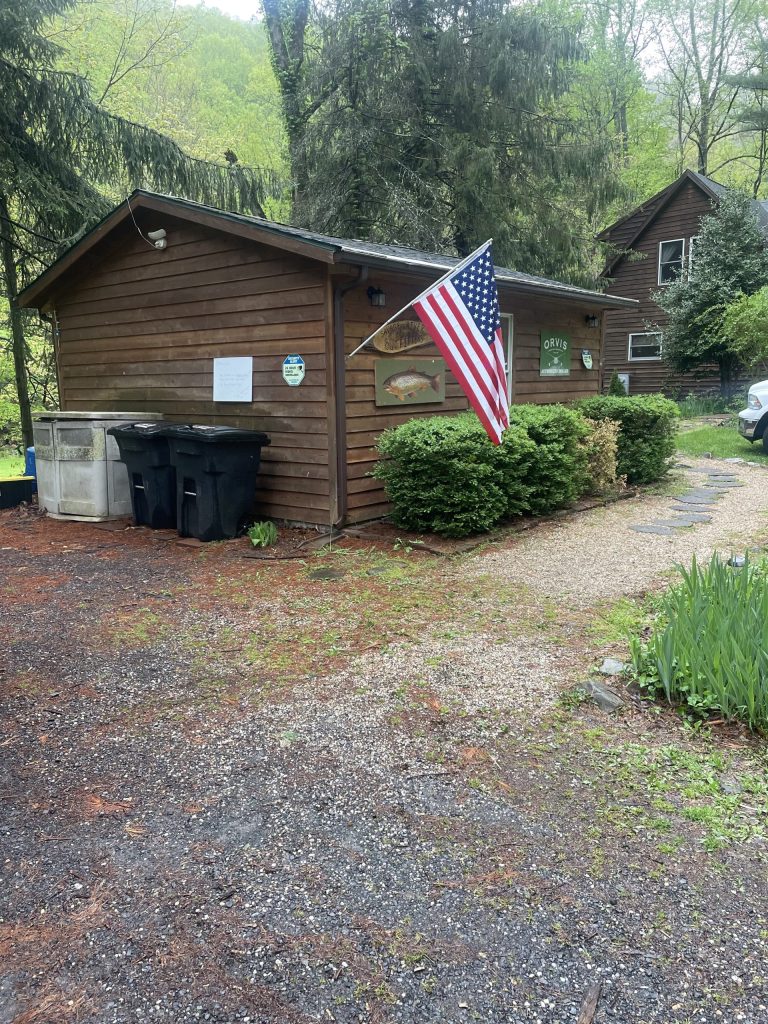 Right away it was pretty obvious it was going to be a good day – the brown trout were eating on the surface and taking nymphs.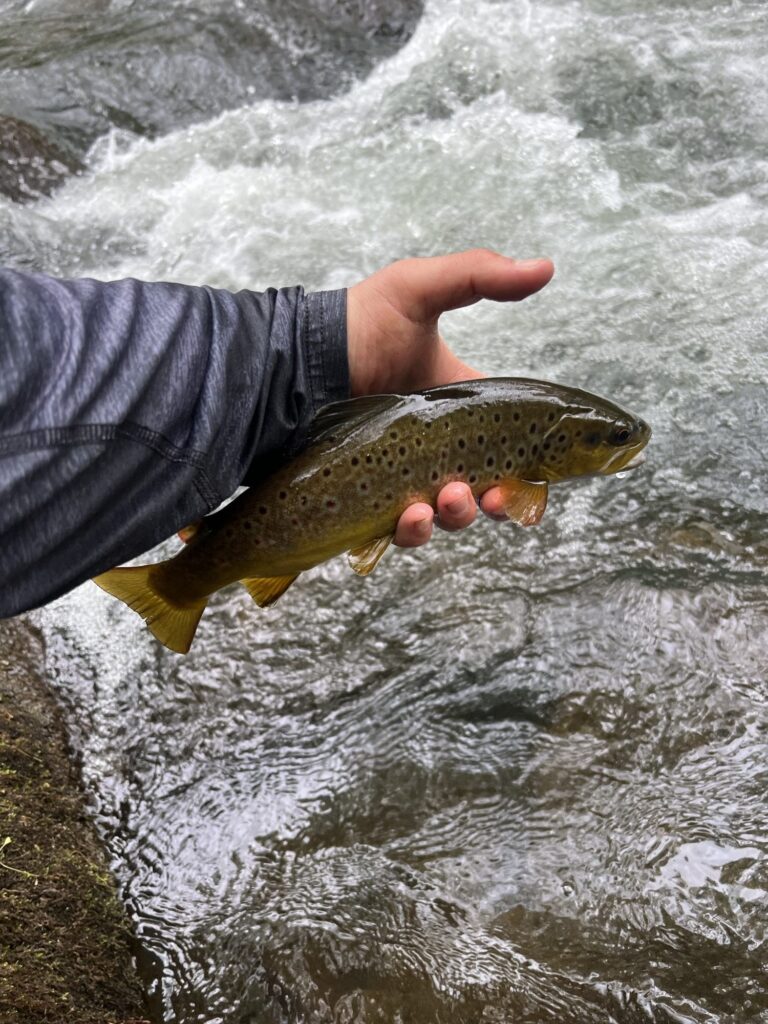 It's tempting to get poetic with these write ups – but all that needs to be said is that EVERYONE was catching fish, with several brown trout over 16 inches. It really was an incredible day.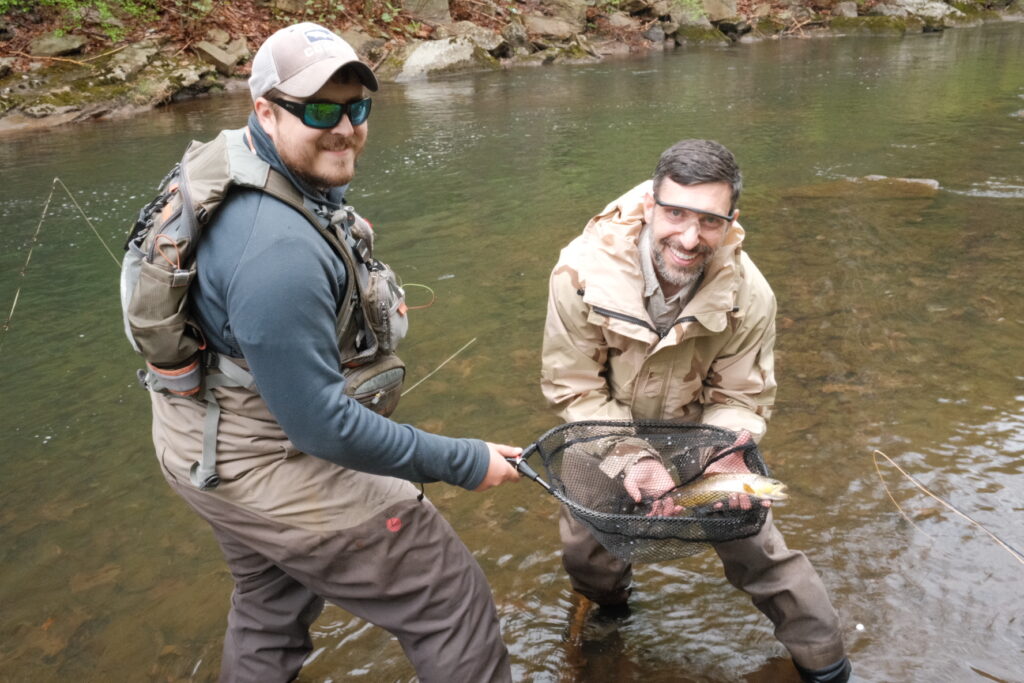 As hard as it was to get people off the water, barbecue chicken seemed to do the trick for almost everyone. Everyone had a nice evening and the camaraderie was at an all-time high. We had a bonfire at the river bank as the sun went down and watched the last few participants coming off the water for dinner. Up until last light, people were still catching fish.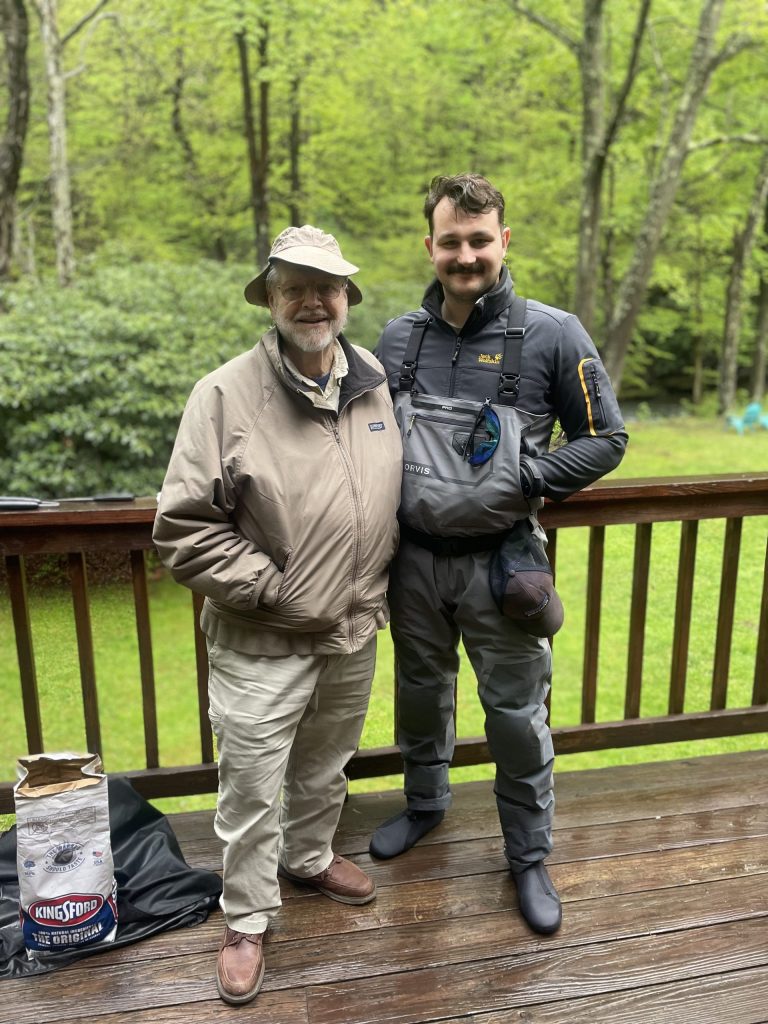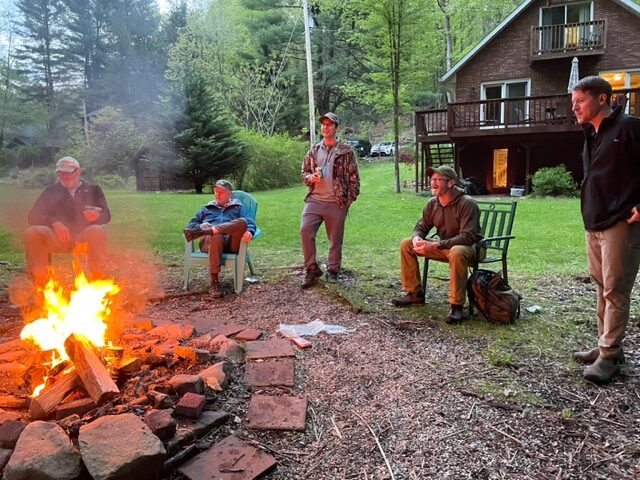 Sunday morning the weather was pretty rough as predicted, and the event formally concluded. However, this did not stop a few of our participants from hitting the water on their way home, and a few more fish were caught, but not quite as good as the day before.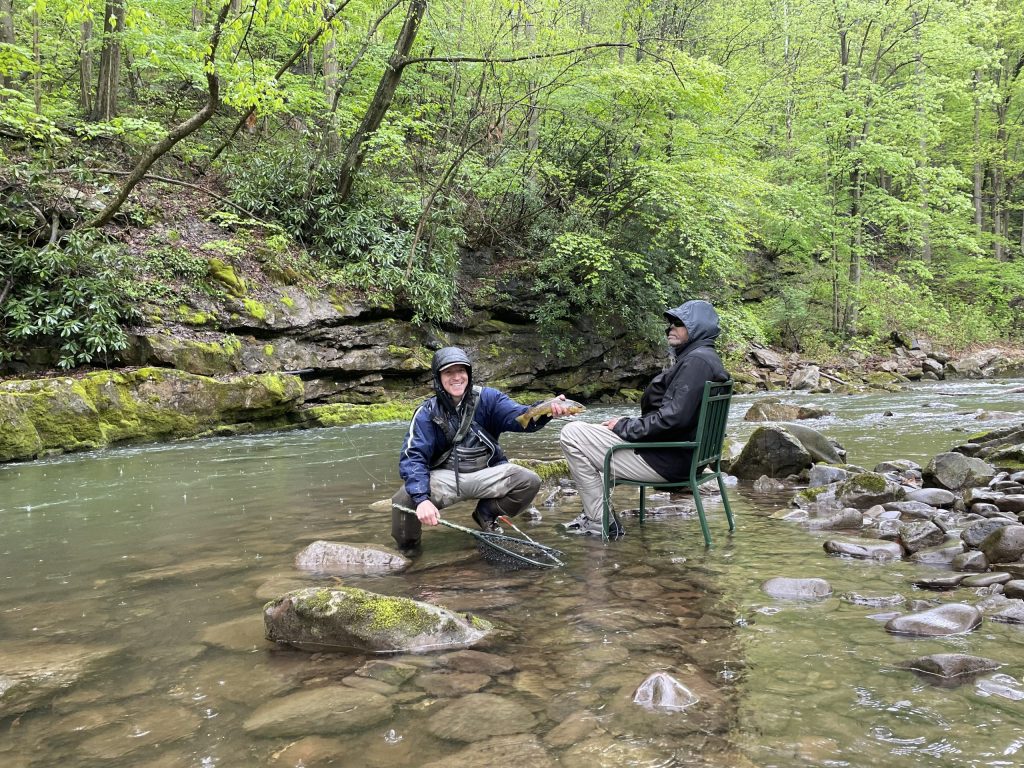 This trip was made possible by a generous donation from the National Park Trust. Project Healing Waters DC originally connected with the National Park Trust at a collaborative event with TAPS in November 2022. The shared commitment to fishing, public land, and the therapeutic properties of time spent outside were the foundation for this great relationship. I want to personally thank Ivan Levin (Director of Strategic Partnerships and Communications) and Nick Weig (Programs Coordinator) for supporting our Program and this relationship. I look forward to continued collaboration between our organizations at the National level.
I also want to thank Mike Evans, Owner of Savage River Outfitters, for supporting this trip. It is really hard to beat the lodging right on the river! The Savage River Outfitters Guides put our participants on fish, and were very helpful in teaching our participants new fishing skills and how to read the water. Charlie Laffey, Brad Urbas, and Ryan Cooper provided wonderful guide services.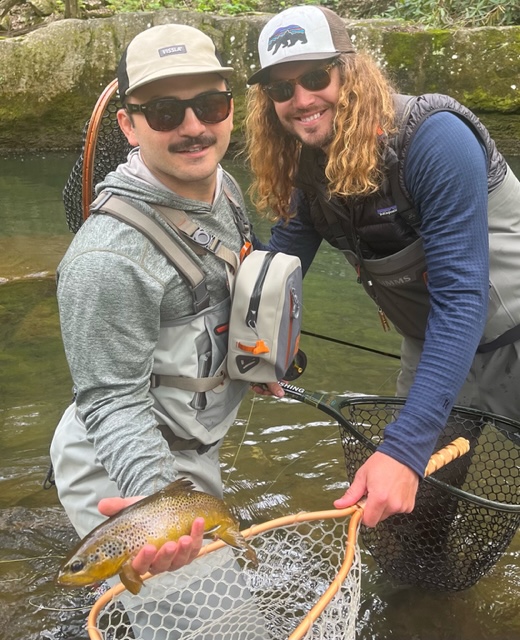 Latest News