By Brian Marcyjanik of PHW Pittsburgh PENNSYLVANIA
On February 1st, Amanda Thompson, Project Leader of PHW – Pittsburgh, was awarded the Phil Johnson Exceptional Leadership Award for her service to disabled military members and Veterans. On hand for the presentation were David Riggio, Regional Coordinator for Pennsylvania, and John Langford (virtual), CEO of Project Healing Waters, Inc.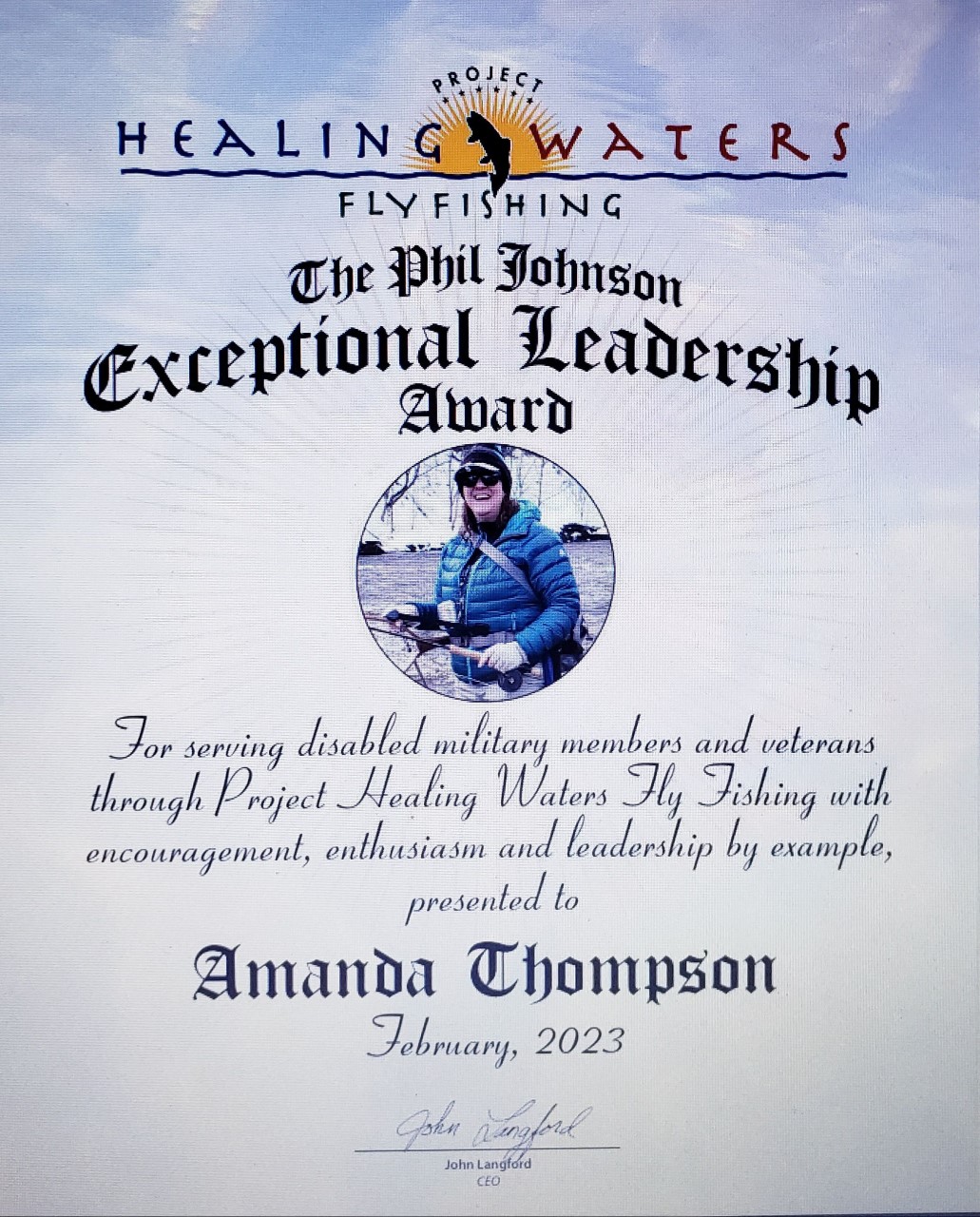 Amanda is pictured below, surrounded by many of the Veterans and volunteers she has impacted.
For some further information on some of the great things Amanda has done during her time with the Pittsburgh program, check out these additional stories:
Fly Fishers' Club of Pittsburgh Recognizes PHW Program Lead Amanda Thompson
Two Pittsburgh Women Partner to Bring Healing to Female Veterans
Below is the full citation for Amanda's award:
Project Healing Waters Fly Fishing takes great pleasure in presenting the Phil Johnson Exceptional Leadership Award to Amanda Thompson for her dedicated and inspiring service to the PHW's Pennsylvania Region and to PHW's Pittsburgh Program's participants and volunteers from 2014 to 2023.
Amanda joined PHW in 2014 and her prior experience in leading non-profit veteran organizations immediately added value to the Pittsburgh program. She served as a volunteer for a few years and then assumed the Program Lead role. She recently accepted the role of Deputy Regional Coordinator for Pennsylvania and agreed to spearhead the regional outing to Bedford, PA. As Pittsburgh Program Lead, Amanda expanded the footprint of the program from the original locations at the Aspinwall VA Hospital and White Oak VA Center to include three additional metro-Pittsburgh locations that conduct one to two evening meeting sessions each month depending upon time of year. She attends nearly all events in person and oversees fly tying material and fly rod component purchases and donations. Amanda works hard to provide growth opportunities for our participants. Pittsburgh program events routinely include prominent local fly fishing experts (such as Jeff Blood, Scott Loughner, Tim Cammisa and others) that provide demonstrations, learning opportunities and unique perspectives that benefit all.
Through partnerships developed with area sportsmen's organizations, businesses and property owners, Amanda has grown the Pittsburgh program from an average of six organized group outings each summer to an all-time high of 26 in 2022 (including five regional outings). She has also recruited a reliable network of volunteers to staff all events, including joint events with the Erie program during the 2021-2022 seasons. The host organizations welcome our participants and treat them with respect; this creates a safe environment that enables bonding and long-term friendships to develop. Amanda was instrumental in acquiring a corporate pass to Yellow Creek Trout Club, Inc., an incredible venue that serves the Altoona and Pittsburgh programs. The club has a pavilion and overnight accommodations that also help foster friendships, while the pond and stream provide ideal environment s to continue learning on the water. Amanda coordinates all aspects of each event and serves as the host. She typically arrives at each event with a carload of equipment, refreshments, volunteer badges, information and tracking documents etc., and is always the last to leave.
Amanda leads community outreach efforts and has fostered and maintained a solid foundation of skilled, dedicated volunteers, and community partners. She works tirelessly to instill PHWFF core values in all.
From a fundraising perspective, we are fortunate to have Amanda leading our efforts. Her professional experience and business acumen add value to any such activity. She has worked to secure corporate and individual sponsorships approaching $50,000; this allows the Pittsburgh program to provide our Veterans with equipment and fishing opportunities to quality events and destinations without a constant focus on fund raising. Over the past few years our participants have traveled to Freedom Ranch, Alaska, home waters, and the South Holston River and many other regional destinations. Her work does not stop there, as Amanda routinely assists other PLs in our region with fundraising efforts.
Although Amanda did not serve in the military, she's a true patriot with a passion to give back to those that have. She manages participants through the registration process, introduction to PHW Pittsburgh volunteers and participants through alignment with the best fit for each in our program. She is on a first-name basis with participants and their families and keeps her APLs up to date on participant areas of need, skill level, and potential learning opportunities. Amanda's exceptional business acumen serves as a calm and steady influence while successfully resolving difficult situations. It was also critical in sustaining program elements through COVID challenges. She incorporated the use of computer technology to facilitate fly-tying sessions and effectively maintain the CRM database, and her creative use of distribution networks kept fly-tying kits with the participants who needed them most through the lockdown period. In fact, the impact of her entire program is so compelling that the Fly Fishers' Club of Pittsburgh recently named Amanda as Fly Fisher of the Year.
Project Healing Waters Fly Fishing, Inc. is proud to bestow upon Amanda Thompson the Phil Johnson Exceptional Leadership Award for her tireless and extraordinary service to our organization and to those wounded, ill, and injured servicemen and servicewomen and disabled Veterans whom this organization serves.
Latest News