"To know that there are people out there who really do care, to know that people want to help, and to know that there is love and unconditional commitment to help one another.  It's the same sort of love that we all share with each other on the battlefield.  You have been able to regenerate that here at the Mossy Creek Invitational. You see that with the signs in Bridgewater, the flag lined streets, the local businesses, neighbors and all those who travel here to be embraced and to embrace the veterans we serve.  People don't just do that.  That is genuine concern and that is what love is all about.  It is about looking out for each other." – Todd Desgrosseilliers, CEO Project Healing Waters Fly Fishing
The concept of "Main Street, USA" has come to symbolize a lot.  Conjuring idyllic images of flag lined streets, proud local businesses, farms, and the friendly neighbors who make up their communities.  Driving into Bridgewater, Virginia the weekend of June 3, 2017 this symbolism was reality and in full display for all to appreciate and celebrate.  Greeted by flag-lined streets and prominent banners held aloft over the towns prominent thoroughfare, Dinkel Avenue, all traveling through or visiting were left with no doubt that this community was a special place and a core part of what makes our country great.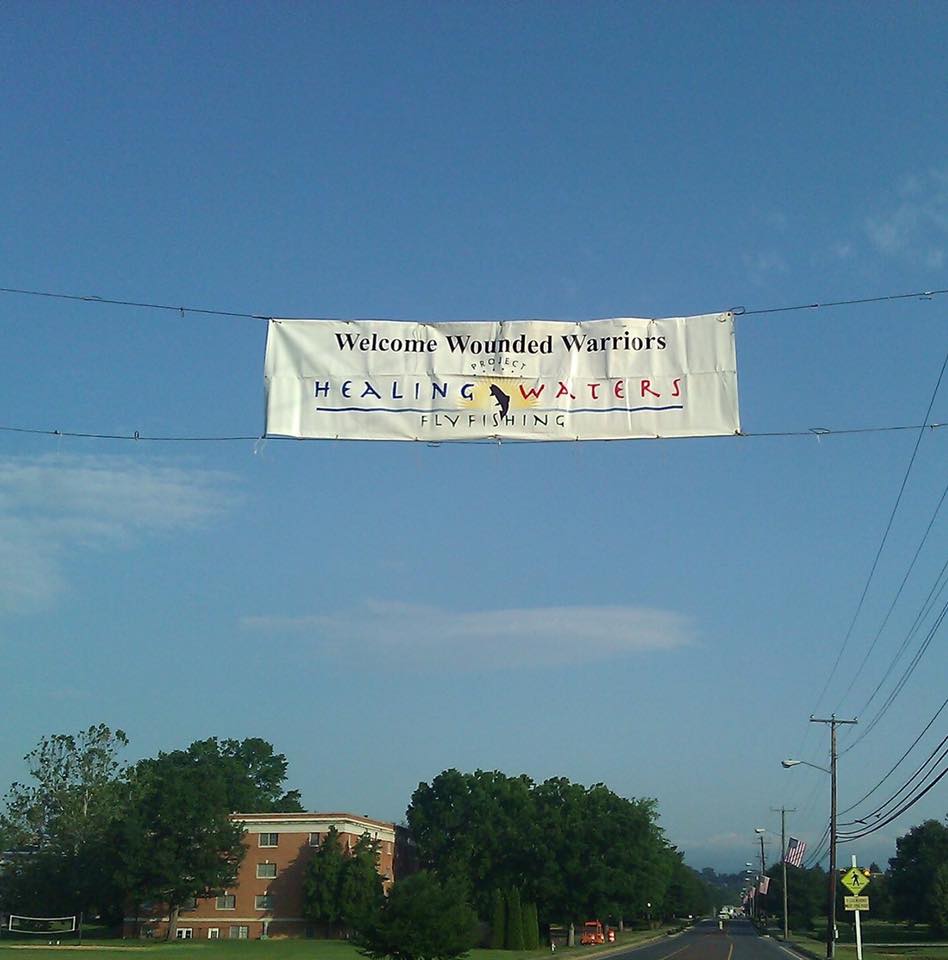 For the past decade, the Mossy Creek Invitational has been a special event, in a special place, brought together by the unconditional commitment and love of the Bridgewater community and all those who travel from a far to its warm embrace.  Graciously hosted each year by Robin and Bob Fitch, the event serves as a premier fundraiser and fly fishing tournament benefiting our cause. PHWFF veteran participants are paired with a sponsor and professional fly fishing guide for a day of memorable angling on Virginia's famed Mossy Creek and it has raised over 1.6 million dollars to date.  Even more remarkable, the event donates over 96 cents on the dollar raised directly to Project Healing Waters Fly Fishing Programs nationwide to continue their noble work providing our unique form of therapy to thousands of injured and disabled veterans nationwide.  This year was a special celebration of ten years of service for the Mossy Creek Invitational and its tremendous contributions to providing disabled veterans with the support they need on their journeys to recovery.
"The Mossy Creek Invitational has truly been a reflection of what PHWFF is all about, says Project Healing Waters Chief Operating Officer, Capt. (ret) David Folkerts, U.S. Army, "Volunteers, sponsors and supporters coming together to make a powerful, positive and lasting impact on the lives of the men and women that this great organization serves. The appreciation that is shown towards their military service and sacrifices made to protect our country is truly genuine and full of love."
As in years past, the veteran competitors were drawn from PHWFF Programs nationwide and this special tournament enabled them to showcase the angling prowess and personal growth they've gained from regular PHWFF program classes and outings. Click here to meet the veteran competitors for the 10th Annual Mossy Creek Invitational
The day dawned crisp and bright, casting rays of sunshine across the fields as Coordinator Don Bell and his group of dedicated volunteers busied themselves with the final touches and PHWFF Founder Ed Nicholson gave technical instruction and tips on fishing Mossy Creek to the veteran competitors.  All were still reveling in the joy of the previous evening which saw a social hour hosted by O'Neills Grill in Harrisonburg, VA.  Guides, Volunteers, Veterans, and sponsors sat on the deck and celebrated new friendships while eagerly discussing the following days tournament.  It served as time for participants and sponsors to meet, discuss strategy for the tournament and to break bread with all assembled in support of our cause.  This was obvious as guide, sponsor, and veteran came together as the days festivities began.
Following a review of Mossy Creek, tournament rules, and a safety briefing, Tournament Director John Miko assigned each team to their fishing beats for the day.  As the teams traveled to the water in the bright sunshine, the excitement, and anticipation of the angling that lay ahead was palpable.  Mossy Creek is a peaceful limestone spring creek that meanders from its springhead in the village of Mt Solon about 8 miles to its confluence with the North River in downtown Bridgewater.  Thanks to the generosity of the Fitch family, Linden "Stump" Wenger, and Bill Gottwald the Mossy Creek Invitational takes place on 3 miles of private water that is divided into 15 sections for the tournament with each team fishing a different section in both the morning and the afternoon.   Known for its abundant aquatic life, it provides a stellar habitat for the large trout that reside between its banks.
Breaking only for a hearty lunch generously provided by Frank Showalter and Golden Corral, the day brought incredible fishing action, due in no small part, to the incredible weather, hatches, and the tutelage of the Mossy Creek Fly Fishing guides.   Excitement and energy flowed up and down the creek as veteran and sponsor teams stalked, cast, and battled countless large trout.  You can check out the great fishing action in the clips below:
The greater community made contributions and showed up in force to cheer on teams, support PHWFF, and enjoy the fellowship under the tent for the dinner.  This group is known as The Friends of the Mossy Creek Invitational and is comprised of individuals, families, and small businesses that donate to PHWFF through the Invitational each year.  
"The Harrisonburg And Bridgewater community comes together every year to make this event so special,"
say Board Member and co-organizer
Brian Trow
, "
Individuals and businesses donate food, money, time, and energy to make the experience for the participants and sponsors unforgettable."
Returning to the tent in the late afternoon, it was evident the day on the water had been a great success.  Smiles, boasts, and lamentations of fish lost told the story of the days fishing.  The teams, now further bonded by time spent on the water, joyfully settled in for dinner as final scores were being tallied by Tournament Director John Miko.  The tent had swelled to capacity with the newly arrived Friends of the Mossy Creek Invitational and an atmosphere of community, commitment, and patriotism embraced all in attendance.
A fantastic dinner, graciously prepared by Fat & Sassy BBQ and Zane Wenger, was held beneath a tent on the banks of Mossy Creek and provided the perfect setting for celebrating its 10th anniversary in remarkable and inspiring fashion.  Host and PHWFF Chairman Bob Fitch welcomed those in attendance and recognized major sponsors BAE Systems, Lockheed Martin, MICA, Mossy Creek Fly Fishing, Leidos, the town of Bridgewater Virginia, Microsoft, Golden Corral, the Trenary family, and the USO,  It is due to their continuous support that we were able to provide our unique brand of healing to over 7,500 deserving members of our armed services in 2016 alone.  Brian Trow, co-organizer and PHWFF Board member, echoed the words of Mr. Fitch as he welcomed his community and thanked the greater business community for embracing and championing our cause for the past decade.  His recognition of Steven Toyota, Momentum Earthworks, Harrisonburg Honda, Bob Wade Subaru, Sustainable Solutions, Engineering Solutions, Jack Browns Restaurant, LD&B Insurance and Financial Services, Neveplast, the Friends of the Mossy Creek Invitational and photographer Erica Lewis was met with great applause and appreciation.
After those assembled had settled down to enjoy the meal, the awards ceremony began.  The ceremony began with a special recognition for "Smallest Fish."  This fun award went to SSG (ret) James Scott, U.S. Army for scoring an 11 inch trout. As Mossy Creek Invitational history dictates he was presented with a custom bamboo fly rod by Henry Bowser (the rod maker) on behalf of himself, Stumps Anglers and the Massanutten Chapter of Trout Unlimited.   Despite his attempts to return to his seat, Mr. Bowser was immediately summoned back in front of the crowd as John Miko bestowed, with great pleasure, the 2017 Spirit of Mossy Creek Award for his extraordinary commitment above and beyond the call to the veterans served by PHWFF through the Mossy Creek Invitational.
Excitement and anticipation had built throughout dinner as all awaited the announcement of winners of the 10th Annual Mossy Creek Invitational.  With over 175 inches trout scored, Veteran participant Capt. (ret) Eivind Forseth, U.S. Army and sponsor Major General (ret) Gregg Potter, U.S. Army were declared the winners.  The announcement was met with a rousing ovation.
David Folkerts, COO then introduced two veteran participants – SGT (ret) Dan Moneymaker, U.S. Army and CPT (ret) Eivind Forseth, U.S. Army –  to share their stories and journeys to recovery through the PHWFF Program:
"I was depressed and was suffering, I was going to be one of the 22 a day.  The Knoxville PHWFF Program Lead wanted me to join them and go fishing.  I gave him 50 reasons why I couldn't go fishing,  For every answer I had, he said: "what do you have to lose?" I thought about it and I said fine.  I'll go fishing with you once and then I don't want to hear from you ever again.  They took me to the Smoky Mountains and I caught a fish.  First fish in 40 years.  I started going to fly tying classes and something clicked and for the first three years I was in the PHWFF Program I tied over 10,000 flies.  Now I teach fly tying and I teach rod building to my fellow veterans.  I am giving back because this organization gave me my life back.  For that I can never re-pay them." – SGT (ret) Dan Moneymaker, U.S. Army
"I attribute my recovery to this program.  This program undoubtedly saved my life.  That is why I pushed so hard early on to keep this going in 2005.  I thought a lot about this…what I have learned is that when I say that I attribute my recovery to Project Healing Waters, I say that knowing that my recovery is not done.  For a lot of us here, our recovery will never stop – we rely on this.  We rely on this for our recovery and our survivability.  From the bottom of my heart thank you. We will continue to push, to share this with our new participants and their families across the nation.  For the donors and volunteers: thank you for everything you do.  To the warriors: thank you for the courage to step up and having the courage to step up, participate, and share it with your fellow warriors.  Let's continue to kick ass." – CPT (ret) Eivind Forseth, U.S. Army
Both were met with thunderous applause, warmth and appreciation for their courage, sacrifice, and service. PHWFF Founder Ed Nicholson, Chairman Bob Fitch, Board Member Brian Trow, Tournament Director John Miko, and CEO Todd Desgrosseilliers assembled in front of the crowd to announce the sum raised for PHWFF Programs and the thousands of veterans they serve in communities across America.  We are pleased to announce that $241,000 was raised this year bringing the 10-year total to $1.6 million!  Our deepest thanks to all who contributed, sponsored, and supported this special and inspiring event – it is their generous support that will enable us to continue bringing our program to disabled active duty military and veterans in communities across America.
"The strength of this program is built on the relationships we build over time, those deep friendships that allow the veterans we serve to really exist and move forward.  To all of you here today I thank you.  It has been a marvelous ten year event. Thank you." – Founder Ed Nicholson
Matt Vaughn and SSG (sep) Terry Strum, U.S. Army
SSG (ret) Angela Harrison, U.S. Army and Elizabeth Trenary
CPT (ret) Nick Christian, U.S. Army and Aaron Ludwig
SFC (ret) Walter Morse , U.S. Army and Kevin Christensen
SPC4 (sep) Ken Misko, U.S. Army and Glenn Welling
SGT (sep) Richard Brown, U.S. Army and Eric Blosser
CPT (ret) Eivind Forseth, U.S. Army and Major General (ret) Gregg Potter, U.S. Army
SSG (ret) James Scott, U.S. Army and Lance Trenary
SSG (sep) Ken Davis, U.S. Army and Hans Harmon
Steve Gillette and CPT (sep) Ben Miller, U.S. Army
Brian Koerner and Cpl (sep.) Jim Wolfe, USMC
Cory Sodicoff and SGT (ret.) Dan Moneymaker, US Army
SGT (ret.) Chris Boutin, USMC and Guha Bala
Phillip Harris and Cpl (sep.) Brady Sisk, USMC
Dan Craytor and SGT (sep.) Josh Keener, US Army consult on fly selection
Rivers thread their way through our history and tie us, our communities, and our nation together.  "Main Street USA" often passes over a bridge beneath which flows healing waters.  Following the thread of water upstream from the Chesapeake watershed to the North River in Bridgewater and onward upstream to its tributary of Mossy Creek, you pass through America and are embraced by its core patriotic ideals.  It is this embrace, this community, and the unconditional commitment of those who support the Mossy Creek Invitational that we are able to continue bringing our unique form of therapy to those who have made great sacrifices in the service of our nation.  For that we are eternally grateful.
The 11th Annual Mossy Creek Invitational will be held the first weekend of June 2018.